"Why didn't this exist when I was nine years old?" This was one of the first questions from one of the participants at our Inspire event held last month, which welcomed educators and school leaders from around the world to experience learning innovation.
The two-day event invites educators to visit our Learn Hubs and partner schools in Barcelona, where they can experience a new way of learning: one that is learner-centred and focuses on self-determined, purpose-inspired and personal learning.
Welcoming educators and innovators from across the globe
On 18-19th May, we welcomed educators from over 15 countries around the globe who came to experience learning innovation in action and take away tangible strategies and tools for how to stimulate change in their schools and learning environments.
This year's edition, the second cohort of educators to join us for Inspire, attracted the summit's most diverse mix of attendees to date, with participants traveling from the UK, Mexico, Italy, Ukraine, Egypt and UAE, as well as several areas in Catalunya, to begin their transformational journey.
"Inspire you is precisely what we want to do!" says Stephen Harris, Co-founder and Chief Learning Officer at Learnlife.
With an action-packed schedule that combined visits to our Hubs led by learners themselves who guided participants through the core components of the programmes, and shared anecdotal experiences about how the innovative approach has personally helped them grow. A teary eye or two was spotted among the participants when hearing how this approach on personal learning journeys has helped our learners grow through the years.
The groups began with tours of the nature-based Eco Hub which nestles between the beach and wooded areas on the coast 25-minutes south of Barcelona.
Learners took the participants around in small groups, giving them a tour of the different types for trees and plants in the hub and sharing their carefully handcrafted Tree Guide Booklets – fruits of labour from a recent project during Connect, a nature-based building block (custom-built learning experience) that embeds STEM, cultural studies and core concepts such as numeracy and literacy in a transdisciplinary way into the learning experience, all through the lens of nature-based learning.


Providing school leaders with inspiration for change
The goal of the Hub visits is to provide inspiration for creating change in schools and learning communities. Acesco, a Catalan school network and one of the partner hub tours featured during Inspire, is one of the earliest adopters of the Learnlife approach.
"We were first inspired by Learnlife's innovative spaces and approach to learning three years ago, and we have since adapted our spaces at Acesco to allow more learner-led activities and experiences, as well as implemented a similar studio model to help learners develop real-world skills", says Carlos Cami, founder of Acesco.
The event and collaboration with other schools have greatly benefited school leaders and mutually enriched the learning experience for both Learnlife and its partner schools.
"We have experienced first-hand the benefits of sharing and learning from others. Our teachers came away from the training more motivated and with a renewed sense of energy and love for their work and for the positive impact they can have on learners' futures. The beauty is that as educators and school leaders, we can learn from and inspire each other. The one message I hope participants take away from Inspire, is that change is possible, for all educators and in all contexts!" continues Carlos Camí.
On day two of the summit, participants visited the Urban Hub, our first evidence based Learn Hub and a lighthouse of learning innovation.
Putting into practice the learner-led approach and a focus on real-world skills development, learners Akira and Storm guided the tours sharing their experiences and explaining the why behind each of the learning spaces and how the learning happens.
"I enjoy doing the tours because I have learned a lot about presentation skills and public speaking, and I also feel like I gain confidence each time", says Akira, a 16-year old Changemaker at Urban Hub.
This focus on human-centred real world skills development is what's needed for learners to thrive and the approach adopted in our Learn Hubs. In our recent blog post, you can read more about why the World Economic Forum emphasises that a skills-first approach is critical in education for future employability and learner growth as they enter the world of work.



Turning inspiration into action
Hub visits are not the only order of the day. Participants take part in a series of interactive workshops are facilitated by an expert team of Stephen Harris, Leticia Lipp, Georgi Panayotov and Joan Urgell.
Covering developing a strategic roadmap, building capacity for innovation and creating frameworks to enhance autonomous learning, the workshops provide practical tools, advice and strategies on how to turn inspiration into action.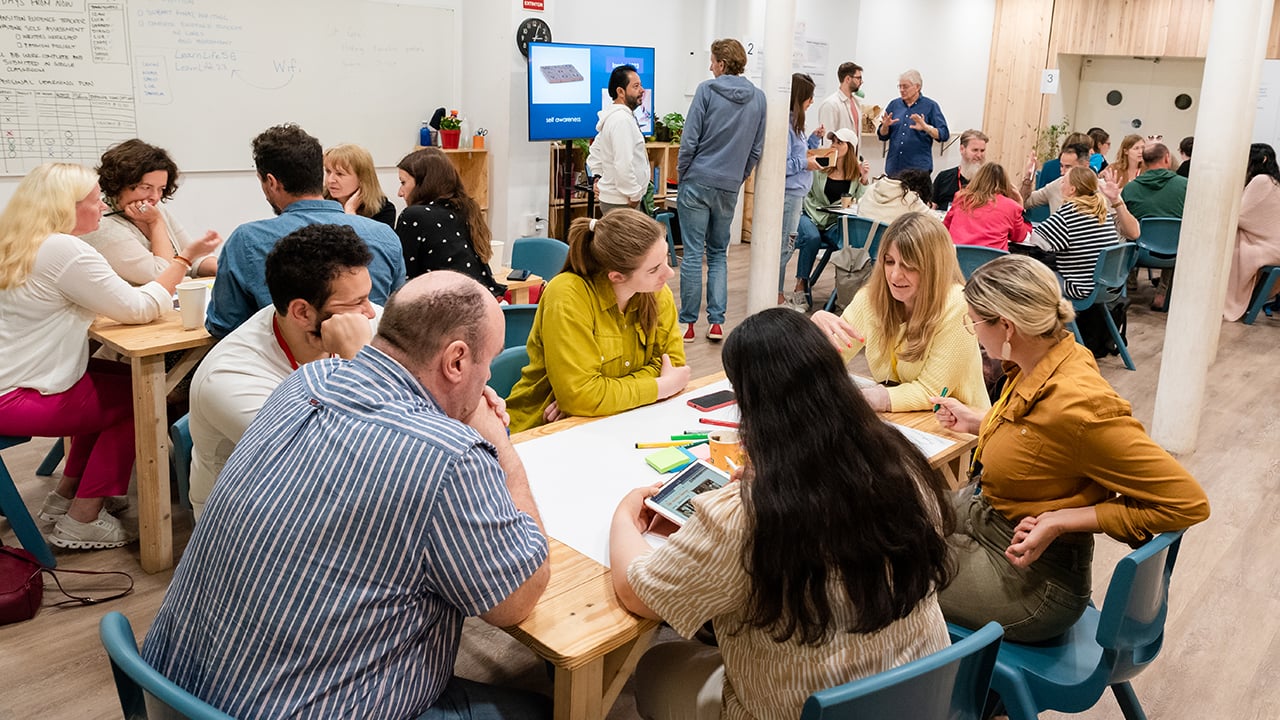 It's a packed agenda, which provides lots of opportunities for connection and
relationship-building among participants – positive relationships are a core value
and pillar for Learnlife and a real legacy of Inspire.
But ultimately, our goal is to share a human-centred skills-based approach with other educational leaders and plant seeds of change so that, collectively, we can bring about positive change in education worldwide.
It's an ambitious mission, yes, but one that's already in motion. So far, Learnlife has impacted 600 schools from public and private sectors in 20 countries worldwide and has attracted more than 5,000 educators and school leaders to its digital platforms.
Delivering change takes time and can't be done alone. But one thing's for sure - Inspire is, well, inspiring change in education worldwide! Here's to the next edition! Keep an eye out for updates about our upcoming November edition of Inspire on 9-10 November 2023.
Watch the Inspire summary video here:
Pre-register to join the Inspire November 2023 edition HERE.
---
Written by