Claudio Torassa has a lot of jobs. At any given time, in Urban Hub, you can find him fixing a stool, guiding a learner, teaching a cooking class or working a table saw. He often comes across as serious, thinking deeply about the next thing on his agenda.

But if you catch him off guard, he might break into a giant smile, mirth dancing across his features and settling into his laugh lines.

His job at Learnlife has shifted over the three years he's been here, but this year, he's a studio expert. He's also teaching a carpentry course in our Afterschool Programmes and helping improve systems in the studio area.

This year, Claudio is running studios in cooking and prototyping & 3D design. While the studios may not appear to have any obvious connections, Claudio sees a lot of surprising overlaps between them.
"Design thinking can be used in creating a dish the same way that the attention to detail and precision would help you design anything that you dream of," he says.
He envisions how mixed media, ceramics, 3D printing and carpentry could all be used to enhance his cooking studio. For example, learners could use carpentry skills to make a kitchen planter for herbs.

In his cooking studio, he hopes to inspire learners to see that it's not just the dish that makes a meal. He tries to impart how design–from utensils and servingware to the physical space itself–can help food come alive.

"It really creates the whole experience," he says.

With that in mind, his learners will have a mini ceramics workshop within the cooking studio where they will create their own dishes for their food.

There's a plan to eventually create mixed studios where learners can blend skillsets or learn how one skill can be used to enhance, streamline or improve another.
An industry expert guiding learners
Claudio is an ideal guide for learners in the studios, given his wealth of experience in both of these areas. He trained in industrial design and worked in the furniture industry for several years before joining Learnlife. He's also a trained chef who's worked in many kitchens, a Michelin-starred kitchen among them.

Having worked with kids developing learning experiences and activities in schools and summer camps since he was 16 years old allows Claudio to understand how to take high-level design understanding and make it approachable for learners.

At Learnlife, he finds it inspiring to see what the learners create independently with just a bit of guidance.
Three of his learners have been working together to create a sound reduction system for Parque, a busy classroom space near the entrance of the Learnlife Urban Hub.

Learners designed the entire project, from original drawings and creating a prototype to the final design. He loves seeing the kids really proud of their work.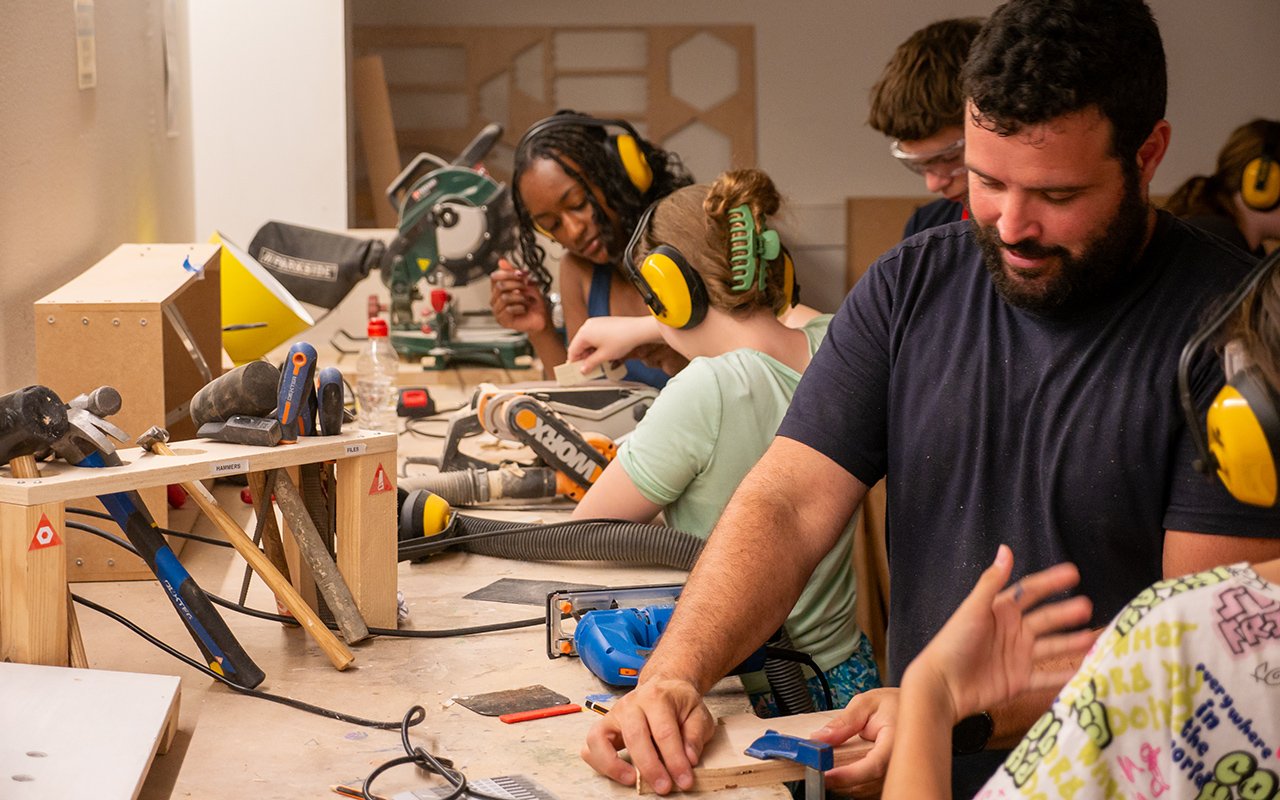 In the Afterschool Programmes carpentry course, Claudio teaches the learners all the tools available to use in the workshop. He starts with the hand tools and then moves on to the power tools, teaching safety protocols and ways to use them.

In the 4-week programme, learners get a short, intensive taste of a subject. In some cases, they can take the same studio the following cycle to continue delving deeper into the topic or work on a project they've already begun.

In the spirit of building autonomy, learners choose their projects, which Claudio feels creates more personal investment.
Ideally, he explains, they could design their ideas on the computer and cut it out using the CNC wood carving machine, but that will happen eventually, he says.

When Claudio's not leading studios or afterschool programmes, he's supporting other aspects of the studio work, such as helping to build and maintain the furniture within the Urban Hub.

He's helped the learners and other studio experts convert the central plaza of the Hub into a space for learners to engage and tinker during the mornings.
It is envisioned as a space where learners can challenge their perceptions about learning, connect with their natural curiosity, and rediscover a love of learning.
A lifelong learner following his own learning path
Like his learners, Claudio is a lifelong learner who continues to grow and develop through his own learning path. When he's not at Learnlife, you might find him in the Teatro Nacional de Catalunya kitchen as the second chef.

"Working as a chef keeps my creativity going," he explains.
It also helps him to continue improving his craft. One dish he has learned to make with a fresh perspective is steak tartare. Although he knew how to make it before, he was trained by a French chef here in Barcelona who gave him a whole new way of approaching the dish.

Each experience he has in Europe builds new knowledge and experience into his repertoire. Claudio was born and raised in Venezuela and lived in Panama before coming to Barcelona five years ago.

He worked in a furniture design company creating concrete furniture for interiors, parks and outdoor spaces.
Like the rest of the international students and staff, he's another piece of the rich multicultural puzzle that is Learnlife, bringing a new perspective and a different cultural experience to the community.

He loves his work at Learnlife and how his craft evolves each year, but if you ask him about his dream job, working at Lego would top the list.

"The ease with which you can create is incredible," he explains. He recounts the many Legos he played with when he was little, especially drawn to building spaceships.
"I'm fascinated by the open possibilities, that with just a bunch of bricks, you can create so many different things," he says.

For now, he's building toys instead. "Designing toys is one of my hobbies," he says. He cocks his head and thinks aloud. "Maybe I call it a hobby, but it could be a future to work towards," he says with a smile.

To disconnect and relax, Claudio likes to be outdoors, exploring and taking road trips, sometimes on his bike, to the mountains. Sometimes, he makes the trip with his dog, a Panamanian street dog he brought with him to Barcelona.

But if you were to catch Claudio on a Sunday morning, you'd find him up early with his wife and daughter and heading to the countryside. They would have a beautiful picnic by the lake and enjoy a true escape in nature before heading home to tinker and dream. Chévere!
Looking to ignite your child's passions? Explore our Afterschool Programmes.
---
Written by